1.What modes can lite support?
A total of 18 modes can be supported.
48Khz 24Bits 4-channel A format: original audio
48Khz 24Bits 4-channel B format: Standard SN3D Ambisonic format
48Khz 24Bits 2-channel stereo: XY stereo sound
48Khz 24Bits mono output: output can be omni-directional, sub-cardioid, cardioid, hyper-cardioid, super-cardioid, figure-8 (bi-direction)
16Khz 16Bits mono-output, omni-directional, meeting mode for far-field voice pickup
16Khz 16Bits mono-output, uni-directional, forward direction pickup.
16Khz 16Bits ,mono output, uni-directional, TWFREE-TALK mode
16Khz 16Bits mono-output, bi-directional, front and back direction pickup, bi-directional mode
16Khz 16Bits mono output, bi-directional, top bottom direction pickup, spotlight mode
16Khz 16Bits stereo output, bi-directional, front and back direction pickup
16Khz 16Bits four-channel output, quad-directional, front, right, back left
16Khz 16Bits four-channel original A format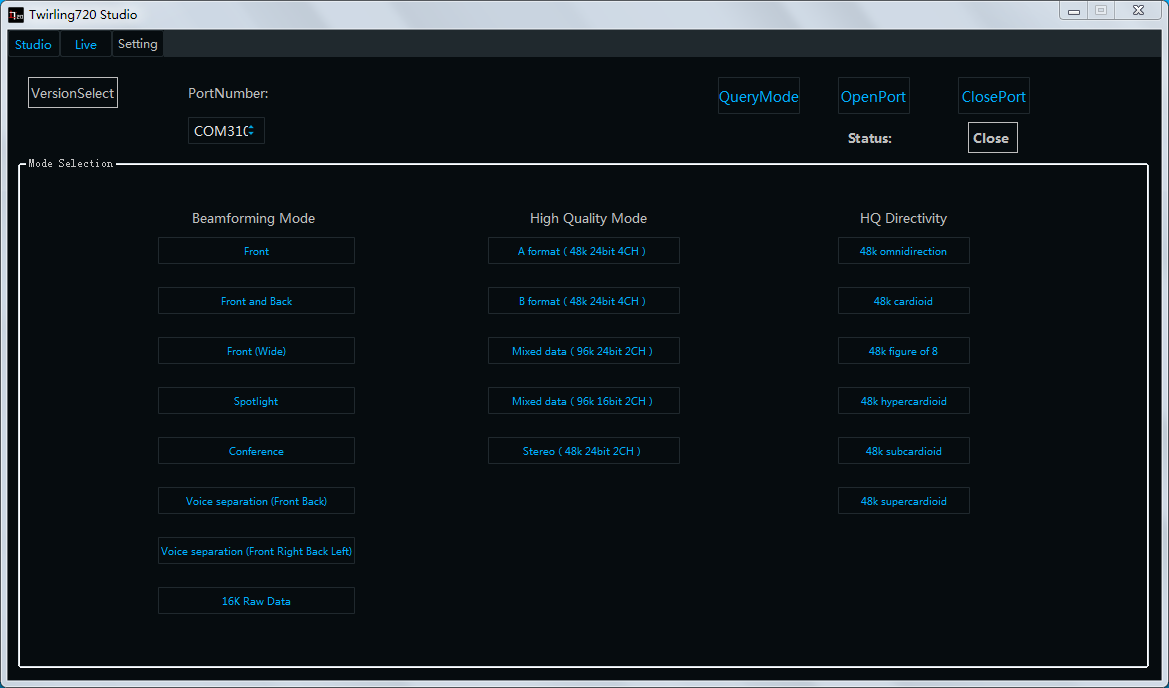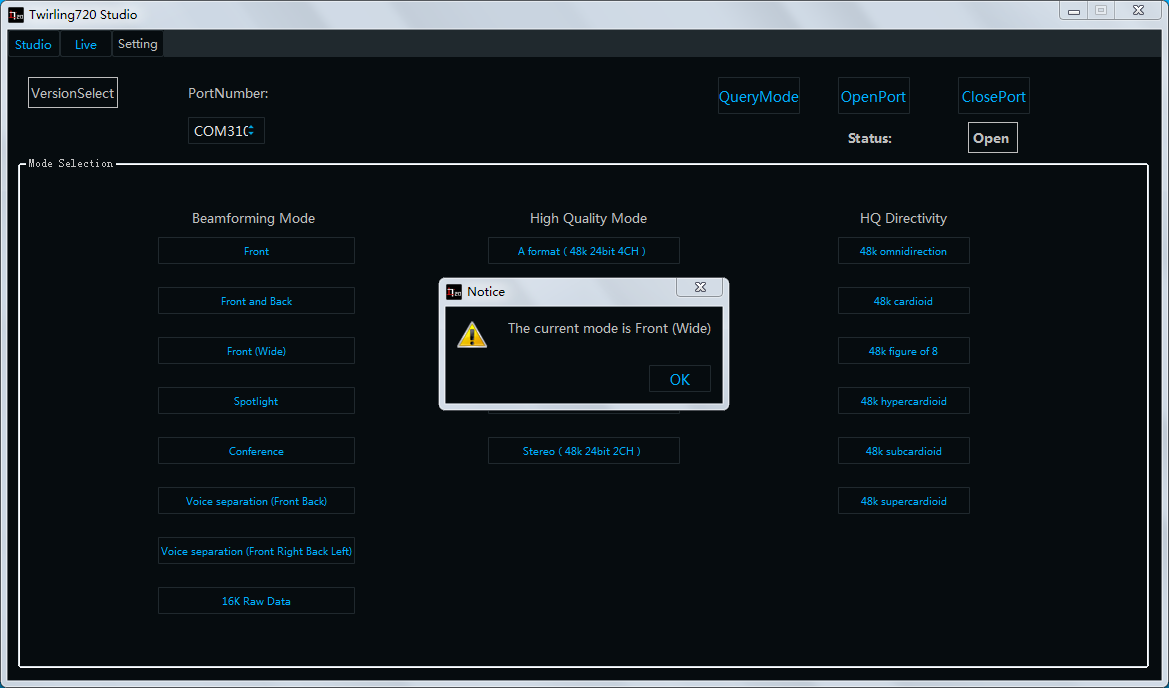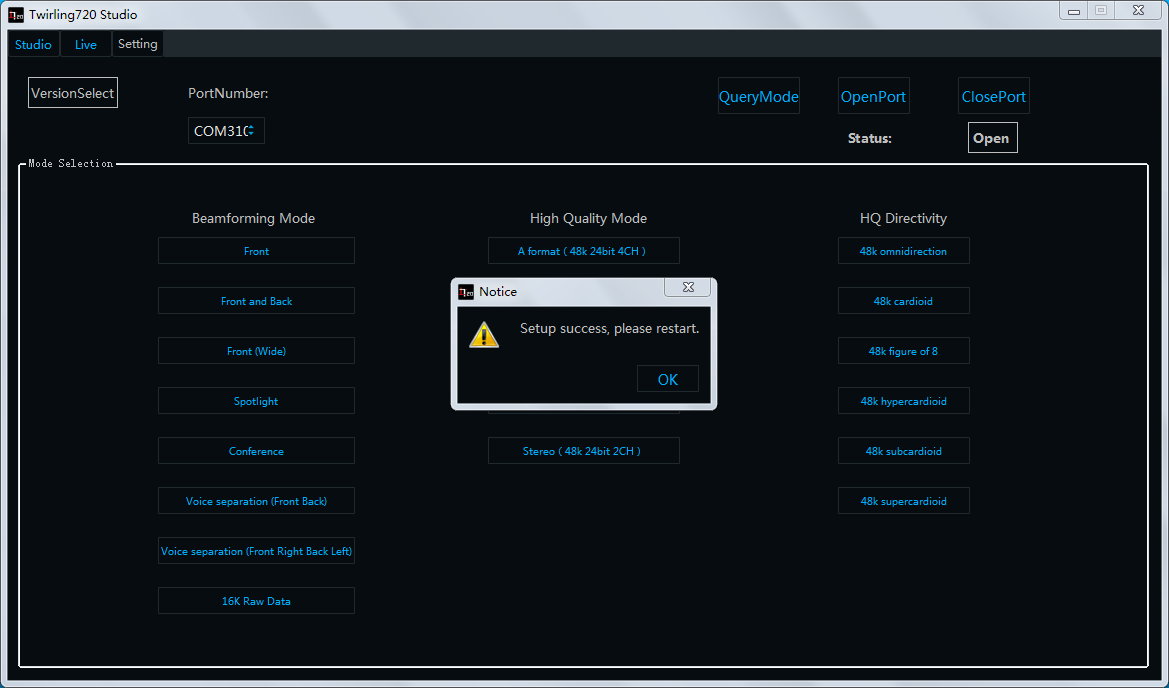 2.How do I operate with Lite recording?
Directly insert the Lite into the charging interface of Android mobile phone or PC (on PC select Twirling720 Lite from the list of the USB devices), and open your favorite recording software.
3. What's the difference between ambisonic sound recorded by Lite and the traditional stereo, 5.1?
Ambisonic audio is the standard VR audio format, enabling interactive soundfield rotation with proper playback devices, such as mobile phones or VR headsets, generating a 360 degrees immersive sound experience.
4. Which platforms support the playback of the ambisonic recording?
Many platforms nowadays support Ambisonic playback, such as VLC, YouTube, Facebook. You can also contact us for the developer's SDK so that you can build your own apps for rendering ambisonic.
5. Where is the advantage of using Lite to pick up sound in a noisy environment?
Lite can still locate and identify speakers in noisy environments, and also support far-field pickup.
6. Charging time and standby time?
Lite does not have a battery, so there is no need to charge. It is powered by USB and works when connected to your mobile phone.
7. What can I do with a developer version?
The developer suite includes Twirling720 Lite and cross-platform Twirling Capture SDK, which supports Windows, Linux, Mac, Android and iOS. Through the development kit, you can easily integrate Twirling720 into your products and applications, whether for recording, live broadcast, or intelligent speech interaction.
8.The program will occasionally crash
Please contact us in time and provide the hardware configuration and operating system version so that we can improve as soon as possible.
9.What system does your software support
Twirling720 Studio can only switch modes in the PC windows system, and currently does not support Mac systems.
10.How to record Ambisonic 360 sound via PC
In the PC windows system, if you want to use 4-channel Ambisonic format, you need to download Twirling720 Studio, and switch to Bformat (48k24bit4CH).
11.Mobile phone recording file path
The path of the file is Android/data/com.twirling.twirling720lite_android/files.